Unique 100ml Flask for Spirits
April 21, 2020
2020-12-07 16:01
Unique 100ml Flask for Spirits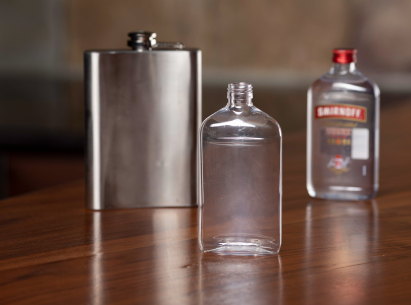 Unique 100ml Flask for Spirits
Differentiate your brand with our patented Flask PET bottle.
Unique technical design withstands over 150lbs top load pressure which is necessary during the ROPP capping process. The PET bottle material eliminates the risk of glass handling and breakage on the production line.
The 100ml Flask is the perfect size for on-the-go convenience. Our patented design offers an enhanced shoulder profile, reduced gram weight, and increases front label panel area by 10% offering additional branding space. Brand logo embossing can be added to the shoulder area for further brand enhancement.
BENEFITS
– Bottle design delivers cost savings via a lower bottle weight and neck finish.
– Domestic manufacturing reduces lead-times and transportation costs.
– New shape provides more bottles per truckload.
– Lightweight bottle – more sustainable
– Bottle can be processed with 100% PCR